The KillaCycle is now on it's way to New Zealand. Whew! It was a lot of work getting it race-ready, building spare motors, and just figuring out what bare essential support equiment we needed to race it.
Eva did a LOT of the packing and organizing while I went through the bike and built spare motors.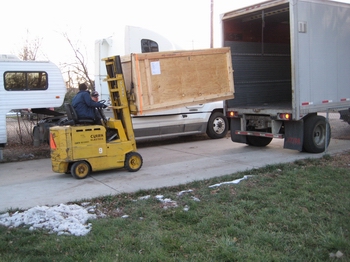 We are really looking forward to racing head-to-head agianst the top drag bike teams in New Zealand. We are very excited to having Ian Wilkins on his fast and spectacular-looking drag bike in the other lane against the Killacycle.
We will be racing Ian Wilkins at Meremere drag strip on January 31st. The day before, we will be displaying the KillaCycle at the "Show and Shine" associated with that event.
Take a few moments to visit the "New Zealand 2010″ gallery in our photo album to see Ian's drop dead gorgeous bike (and Eva loading the huge crates on the freight truck.)
http://www.killacycle.com/photos/new-zealand-2010
You can also see our full schedule here: (This will be updated as the times and dates for appearances and race events become finalized.)
Green Stage, New Zealand